Talion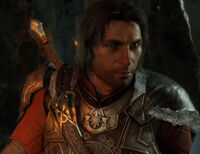 Talion is one of the two player-controlled protagonists in both Middle-earth: Shadow of Mordor and Middle-earth: Shadow of War, alongside Celebrimbor. However, they share the same body.
A descendant of the Northmen in Rhovanion, and raised in Minas Tirith, he is a loyal Ranger of Gondor, where he then rose the rank of Captain of the Black Gate. After the tragic demise of his family and himself, Talion was revived by Celebrimbor, an immensely powerful Wraith; where the two joined forces and began a quest for vengeance on those responsible for the death of his loved ones, the Black Hand of Sauron.
Later, after he defeated the Nazgûl Isildur and after Celebrimbor abandoned him, Talion wore Isildur's Ring to survive. Resisting the corrupting effects of the Ring during decades to hold back Sauron's forces in Mordor and to give Gondor time to prepare for the War, Talion eventually became one of the nine Nazgûl. After the destruction of the One Ring by Frodo Baggins and the destruction of Sauron, Talion's spirit was freed and he moved to afterlife.
The Gravewalker.
"Could you really rest for all of eternity, knowing that you had the chance to stop him but did nothing? The time has come for a new Ring." -- talion
Talion's life is one of perseverance through tragedy. A Ranger captain stationed at the Black gate between Gondor and Mordor, Talion battled the servants of Sauron when they attacked the fortress. Talion fought bravely but was captured, then forced to watch as the Black Hand of Sauron slew his wife and son.
Talion was the next to fall to the Black Hand's blade, but instead of dying, he found himself banished from death and bound to an elven wraith, Celembribor. The two inhabited Talion's body, and Talion found himself denied the peace of the afterlife with his family. Seeking revenge against Sauron and the three servants who murdered his family (the Hammer, the Tower, and the Black Hand), Talion and his Celembrimbor fought a guerilla war against the Orcs of Mordor, avenged Talion's family, and fought Sauron to a standstill.
Now Talion seeks to end Sauron's dominion over Mordor and save the rest of Gondor from the fate of the doomed soldiers of the Black Gate. To this end, eh and Celembrimbor have fashioned a new Ring of Power they hope will give them the upper hand.
Gallery
See also