Celebrimbor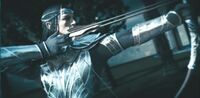 Celebrimbor is one of the two player-controlled protagonists in Middle-earth: Shadow of Mordor and Middle-earth: Shadow of War, alongside Talion, with whom he now shares a body.
At the start of Middle-earth: Shadow of Mordor, after the slaughter at the Black Gate, Celebrimbor is joined with Talion as a vessel to take revenge. He does not tell Talion this, instead saying that they are bound together by a curse and that the Black Hand must be killed for it to be broken. Throughout the game, he and Talion seek to find out his identity, attempting to track down Gollum in order to do so.
Once they discover his identity, Celebrimbor decides to keep increasing his power, with the aim of destroying the Dark Lord Sauron.
Notes
Celebrimbor is one of the Noldor, who was born in Aman and came with his father Curufin to Middle Earth. Celebrimbor is a grandson of Feanor. In the Second Age, he was a ruler of Eregion, after falling out with his father.
Celebrimbor was the creator of the three rings of the elves, Narya, Nenya and Vilya. Much of his knowledge was taught to him by Sauron himself, who eventually created the "one ring" in 1600, who should rule all the other rings. Celebrimbor realised Sauron's (aka "Annatar's") intentions and gave his three rings to Galadriel und Gil-galad, who should hide and protect them. Sauron started the war against Eridor in 1693. In 1697 Celebrimbor was captured, imprisoned and tortured by Sauron, but he never revealed the whereabouts of the three Elven Rings, so the dark lord ordered Celebrimbor to be executed.
See also